Street Rod Brakes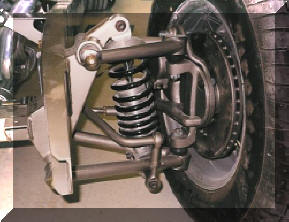 The TCI Chassis was purchased with OEM disk brakes on all 4 wheels. Thought they would be better and it would be easier to install an emergency brake. The fronts turned out to be Camaro circa '78 -'80. The rears needed to have a parking brake. These were from an '80 to '85 Cadillac Seville with Eldorato rotors.
The front brakes are fine but the rear parking brake used a mechanism to mechanically actuate the disk brake - not very effective! TCI included a proportioning valve in the rear brake line and 2 residual pressure valves (but not all in the right location-See Below!)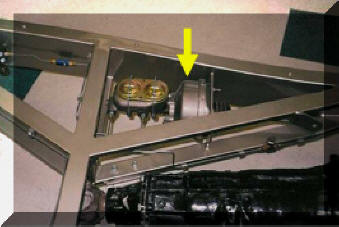 Most Street Rods use a Master Cylinder mounted under the driver seat. Good idea but it does limit the diameter of the power brake booster. Ours is the conventional single 7" diameter unit (yellow arrow in picture right.) They are now also available in dual booster units which I would recommend. The car is relatively light so the amount of boost needed is not critical but the overall effect reminds me of not having power brakes with a drum brake car. Stops OK but far from my Z51 2008 Vette!!
The car came from TCI with 2 bottles of silicon brake fluid. I installed it - but that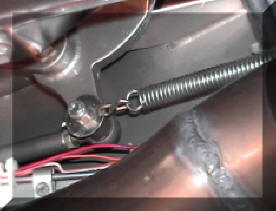 was a mistake! Couldn't get the sponginess out so purged all the silicon and switched to Dot 4. Lots of work and several quarts of Dot 4 to get it all out!
However the peddle had a tendency to stick to the floor-not good. Sent the assembly back to TCI who checked it and said all was fine and that I might need a return spring! A search on the internet showed a fellow selling a spring kit that went over the pushrod (apparently a common problem) but it would not fit my system! So improvised and attached a bracket to the frame and drilled a washer to fit over the brake lever arm (see picture.) Then installed a spring between the two. That provides enough tension to assure a quick positive peddle return.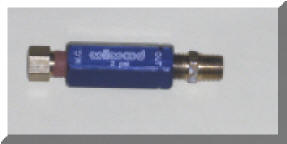 The brakes were OK but did feel spongy and had a long stroke, actuating close to the floor. Lived with that for several years until I saw a TV program that talked about residual pressure valves and what would happen if you didn't install them. The peddle would feel spongy and go close to the floor. Hmm!
Right after that comment I recalled when I was building the car I had noticed two residual pressure valves had been installed by TCI in the rear brake lines - in series. I even called TCI and asked if that would be OK. They said no problem. After all these years was it possible they did not have a residual valve in the front line? Quickly went to the garage and jacked up the car side. Sure enough
no front residual valve!! They had installed two - but both in the rear line!
Fortunately Wilwood sells a residual pressure valve with one standard brake fitting on one end and an 1/8" to 1/8" pipe fitting on the other (above photo.) This was perfect to install on the Tee fitting that houses the brake light pressure switch! No need to pull out my double flair fitting tool! Just removed the brake line from the Tee fitting and installed the Wilwood Residual Pressure Valve (see picture left.) Bending the original brake line to fit was no problem.
That Was The Solution! Better overall braking and a higher less spongy peddle.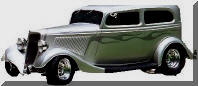 Engineering a 1934 Pro Street Rod
!

Click for YouTube Video Overview of Car
This Site:

We're "hitchhiking" on our commercial web site to bring you this information on 1934 Street Rod If you or a friend have a MIG Welder (also called a Wire Welder, GMAW, etc) visit our site on How To Save Shielding Gas Waste. You can reduce the number of times and the effort required to have your shielding gas cylinder filled in half! Just click on the This Link. You can return to this site by using the Links at the bottom of the "CAR BUFFS" page.

$ave money and get better weld starts!

If you make a lot of short welds and weld tacks you can probably reduce your gas usage by 50% or more. Also fewer trips to have the cylinder filled.

See these other pages for more details:

Click to See a List of Vendors Used to Build This ProStreet '34

Corvette Accessory Installation Info