1934 Ford Sedan Street Rod
Construction Details Index.
Click on the topic or picture to see how item was built.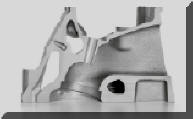 MIG Gas Delivery and the Small Block Chevy Evolved in a Similar Way and Time!
Both had Advances and Setbacks Before
They Were Optimized!

Free Information on Welding Race Cars & Street Rods
Have a Welder? Improve Weld Starts and Have Shielding Gas Cylinder Last at Least Twice as Long!
Note: Our Patented GSS is Not Available in "Stores"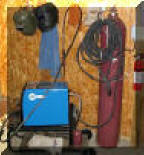 A home shop fabricator in Georgia with a Miller TM 175 amp welder purchased a 50 foot Gas Saver System ( GSSTM ) so he could use a larger cylinder and mount it on the wall of his shop. He wrote:
"The system works great. Thanks for the professional service and a great product." Click To See His Home Shop
A Professional Street Rod Builder Had This to Say:
With their standard MIG welder gas delivery hose the peak shielding flow at weld start was measured at 150 CFH. That caused air to be sucked into the gas stream causing poor weld starts. With the GSS replacing their existing hose, the peak flow surge at the weld start was about 50 CFH. Total gas use was cut in half.
Kyle Bond, President, quickly saw the improvement achieved in weld start quality as a significant advantage! Kyle, an excellent automotive painter, was well aware of the effects of gas surge caused by pressure buildup in the delivery hose when stopped. He has to deal with the visible effects in the air hose lines on the spray gun in his paint booth! The paint surge is visible and creates defects unless the gun is triggered off the part being painted! We can't do that with our MIG gun!