Click for Shipping & Handling Charges for USA Details for obtaining estimates of shipping and handling costs for other locations are also shown on the shipping info page.

Note: In Canada our Distributor, Plasmit Inc, sells many of our gas saving products Click to Visit PLASMIT Web Page
Click to See Details Page of GSS Selection and Installation; Special "B" Fitting Adapters and TEE Fitting for Dual Wire Feeders
Photo's of Fittings for Gas Saver System Part Numbers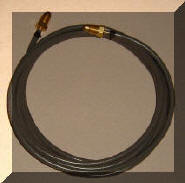 The patented GSS consists of a custom manufactured, small ID and large OD gas delivery hose that replaces the existing hose from your gas supply (cylinder or piped) to wire feeder (or welder). It includes a special fitting with a restriction orifice on the wire feeder /welder end to improve weld starts by reducing the initial gas surge avoiding excess turbulence. Note: Gas Flow Rate, while welding, is set with existing Flowmeter, Regulator/Flowgauge or Orifice at gas supply to whatever rate is desired.
Two types of GSS end fittings are available: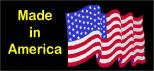 The most commonly used hose fittings for industrial MIG and TIG welders (i.e. Lincoln, Miller, Hobart, some ESAB - and many smaller welders sold by these major US manufactures, is the standard Compressed Gas Association (CGA) fitting for Inert Gas, called a CGA 032 or "B" fitting. See the dimensions and appearance in Photo A & B below. (Note, a recent Hobart Handler welder used a SMITH regulator/flowgauge which did not have a CGA fitting, it used a fitting similar to that used in Europe, SEE PHOTO -You'll Need a Splice Fitting installed on the GSS gas supply end for this model.)

If either your welder, feeder or regulator use another type of gas hose connection, such as a hose barb, or if only a gas hose exits your welder, you can purchase a GSS with a "Splice Fitting" installed on one or both ends for the same price. The Splice Fitting is shown below in Photo C. Also see installation details.
Refer to Photo's A & B above; if both your feeder and regulator have CGA 032 fittings, sometimes referred to as Inert Gas "B"- you can purchase Part Numbers WAT FB3, FB4, FB6, FB12, and FB25 which come in fixed lengths with the fittings installed (Photo B). The GSS is then simply threaded into the female fittings on the feeder and regulator or flowmeter.
NOTE: "SP" Splice Fittings
IF YOU DO NOT HAVE CGA "B" FITTINGS:
If either the wire feeder/welder or regulator/flowmeter does not have a female CGA (Compressed Gas Association) Inert Gas 032, "B" fitting, or only a gas hose exits your welder, you can order the desired length, FB3, FB4, FB6, FB12 or FB25 with a splice fitting on either or both ends for the same price (See Photo C Above.) Just send an Email when you place your order and state which end (feeder/welder end or gas supply end) or both require the Splice Fittings installed instead of the CGA "B" fitting. Include your shipping address in the email so we can match the email with the order.
When you receive your hose with the Splice Fittings, simply; 1) cut your existing hose close to the feeder/welder and/or regulator and 2) splice in the GSS hose by inserting the barb fitting into the cut hose. The most common 1/4 inch hose barb will come installed on the GSS you'll receive, if a smaller 3/16 inch barb is needed it is supplied in the package and can easily be installed. The weld and gas savings performance results will be the same with either the "B" or Splice Fittings. Click for more details about installation of Splice Fitting Connections or See Photo C1 Directly Below, about the use of an adapter.

If you have many MIG welders with different length hoses you may wish to consider purchasing bulk hose and a pair of the special fittings separately (Photo Left). Email for Details.
Note, the purchase price includes a paid-up license for the use of our Patent.
Optional Adapter if You Don't Have "B" Fittings

Particularly useful for industrial fabricators with Wire Feeders or Welding Robots that do not have CGA female "B" fittings. Our WAT-SFIT-4 adapter may be the best option. The WAT-SFIT-4 has a 1/4 inch hose barb on one end and a female CGA "B" on the other.