CHECK OUT HEADER FIT AND EXHAUST GASKET PROBLEMS
A Borla Hot Rod Kit Was Used
A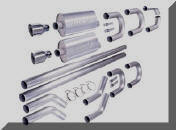 Borla "Hot Rod Kit" was purchased to provide an all stainless (304) straight through muffler with 3 inch exhaust tubing (Borla price on their web site was $915.99, but they only offer 2 1/2 inch system now!). This mates perfectly with the Sanderson Big Block Headers designed to fit a 1934 Ford.
With the Pro Street 'tubbed" chassis there is no room to have the exhaust go over the narrowed Ford 9 inch rear axle. Also the 15 gallon stainless gas tank left little extra room under the rear and even a 2 1/2 inch exhaust would have been too low. The only choice was a side exhaust. With a 112 inch wheel base the exhaust exits to the rear of the doors. That is a safety requirement.
The Bola kit comes with many pieces, far more than needed. Bends were selected and cut to provide the angles needed to mate with the headers. They were then tack welded using the MIG welder (with the "Shielding Gas Saver System") MIG welding does a fine job for the tack welds. Hi Si 308 wire, 0.030 diameter is used with a Trimix shielding gas (8% CO2, 2% O2, balance Argon). The CO2 content is sufficiently low that carbon pickup is not a problem. The slip joints from pipe to muffler and for the exhaust tips were also welded with MIG. However for a clean and neat appearance it is tough to beat TIG welding for the butt joints. Especially if the TIG welding is done by a professional.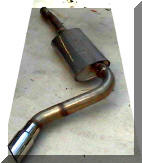 A local welding shop was employed to TIG weld the MIG tack welded butt joints.
The finished results are excellent. Since the car is driven (it's not a trailer queen!) the 304 stainless is not polished . The exhaust sounds great. It is fairly quite at idle and even cruising at 60 mph sounds fine. When you open up the secondaries I'm not sure if the exhaust or intake sounds the loudest! However it only lasts for a few seconds since you'll be at 100 mph very quickly!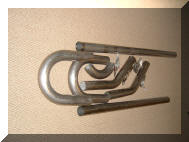 Only used a portion of the 16 gauge 304 stainless tubing and bends supplied with the Borla kit. In fact Borla no longer sells the 3 inch tubing kit or some of the 3 inch tubing. We have: 1) two straight pieces, one 4 foot and the other 5 foot long; 2) two 180 degree bends -36 inch total length each; 3) two 45 degree bends- 25 inch total length each and 3) three HD Stainless
clamps. See photo left.

There is over $500 worth of product. It is all new.
Using This Site:
We're "hitchhiking" on our commercial web site to bring you this information on fabricating the "Exhaust" for our Street Rod with a 502/502 Big Block. If you or a friend have a MIG Welder (also called a Wire Welder, GMAW, etc) visit our site on How To Save Shielding Gas Waste (and also Save Money!). You can reduce the number of times and the effort required to have you shielding gas cylinder filled in half! Just click on the Up Button on the left.
$ave money and get better weld starts!
If you make a lot of short welds and weld tacks you can probably reduce your gas usage by 50% or more. Also fewer trips to have the cylinder filled.
Note: Thanks to those "Car Crazy" folks who have purchased the Gas Saver System and commented on the improved starts and reduced gas usage they have achieved. Many purchased our 6 foot prefitted GSS, Part Number WAT FB6 or you may want our 3 or 4 foot prefittted GSS, Part Number FB3, FB4
Purchase Gas Saver System Product
Visit These Other Sites (just CLICK on the ITEM):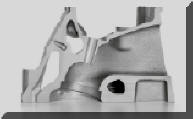 MIG Gas Delivery and the Small Block Chevy Evolved in a Similar Way and Time!
Both had Advances and Setbacks Before
They Were Optimized!

Coolant, Thermostat and Additive
Getting the Heat OUT
Most Important - - -
IGNITION TIMING
Wiring
REFERENCES and BACKGROUND
"WARNING: "Weld Safely"